Are you in need of an Interpreter?
We can help!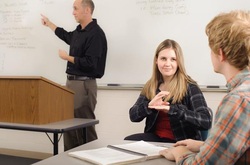 Texas Interpreting Services is dedicated to enhancing communication between hearing and Deaf or Hard of Hearing persons. TXIS provides Interpreters for a wide variety of settings, including: Vocational, Educational, Business, Conference, Legal, Medical and Entertainment. The TXIS roster of Interpreters consists of Nationally/State Certified Professionals, NIC/RID/NAD/BEI Certified.

TXIS's administrative staff is experienced, reliable and efficient, fulfilling our mission statement of Quality, Integrity and Stability with every assignment. We ensure that each request is matched with the appropriate Interpreter and that each assignment is fully documented in accordance with the client's specifications.

At TXIS, we pride ourselves on providing Certified Interpreters with a rapid response time at competitive rates. This means that we are available to your organization 24 hours a day, 7 days a week.

We make it easy for you to request Sign Language Interpreting Services. Whether you need an Interpreter for a staff meeting next month or for a doctor's appointment tomorrow morning, we can help you!

Simply call TXIS at 817-741-4441 or 817-456-8653 after hours and let us know how we can fill your need.

Our Mission… Excellence is our mission, and we believe in it. We believe that Excellence can only be achieved in an extraordinary environment.

Our Philosophy…Since the beginning, our philosophy at TXIS has been to provide Excellence and Integrity to our Clients and Consumers. In addition we are focused on the establishment of Custom Tailored Customer Satisfaction.



---

5344 N. Tarrant Parkway, Fort Worth, TX 76244 |
Phone: 817.741.4441 | After Hours: 817.456.8653 | Fax: 817.741.4333
Office Hours: Monday - Friday 8:00am-5:00pm




---